Technology to the rescue for advisors & wealth managers that have no time for Social media
https://efipylarinou.com/wp-content/uploads/2021/06/FI-Social-Media-Article-Header.jpg
800
533
Efi Pylarinou
https://secure.gravatar.com/avatar/901f8526e9a0f3445aa4dd5241bd8631?s=96&d=mm&r=g
Technology to the rescue for advisors & wealth managers that have no time for Social media
Changes in the ways we make Investment Decisions and manage our money, are undisputed. Even though Americans` trust in financial professionals remains fairly stable over the past two decades, what has changed considerably is how much they use the Internet for their investment decisions and how little mind control advertising has.
Despite these trends and even though Financial advisors have a dazzling technology offering to choose from that can automate several of their business processes, their broad marketing efforts are lagging considerably the trends mentioned above.
In the latest Broadridge study, the top line figures reported that 75% of financial advisors generate less than five leads per month from their website and only 37% of financial advisors report sourcing clients from Social media. The report covers in detail marketing strategies and shows that financial advisors are realizing that they need to meet clients and prospects wherever they are. Social media is already the second biggest item of marketing spend for them and 68% believe that Social media spend will increase going forward.
For financial advisors that continue to be challenged for time and have an overall reduced marketing budget due to the pandemic, it is valuable to find technologies that can address both of these issues.
Financial advisors and wealth managers need to establish a presence in social media. We all know how challenging and time-consuming this can be. However, technology like NLP and various AI algorithms that can identify the trending topics, the most shared articles, or look for relevant events based on portfolio holdings, is now available.
Financial advisors and wealth managers with several clients with diverse profiles and goals can use technology to personalize content distribution across various social media platforms and schedule it with a short, curated message. They can search for articles by topic of interest, for example, ESG, Technology, Retirement, The economy, Real estate, Cryptocurrencies, etc.
Financial advisors and wealth managers cannot afford to be absent from where the conversations are happening. Social media platforms like Linkedin, Twitter, Facebook, Reddit, and even TikTok, are where interesting conversations are happening. Financial advisors and wealth managers that keep their clients up to date with trends and topics of interest are less likely to lose them and in a better position to manage their emotional ups and downs around economic uncertainties.
Investors are on social media and technology can help financial advisors and wealth managers to meet them there. Using technology to efficiently contextualize content and distribute it is the only way. Sharing content daily or weekly, will depend on the client`s profile.
This kind of use of technology will eventually enable a feedback loop for financial advisors and wealth managers. Social media is where conversations happen and therefore financial advisors and wealth managers learn what is of top interest, concern, and the options being discussed.
Clout is a Fintech marketing solution that addresses several of these challenges for Financial advisors, wealth managers, and enterprise firms. Clout is born out of a family-focused on using technology and financial intelligence for the investment sector. Their focus is on finding scalable fintech solutions that best serve the end client — the investor — and designing such B2B solutions for those that serve investors.
As a content producer myself, a global Fintech influencer, and thus a heavy social media user, it was a pleasure to test out the clean, simple, intuitive Clout dashboard. I decided to use it only for the ESG thematic and just scheduled content for Twitter and tested the email functionality.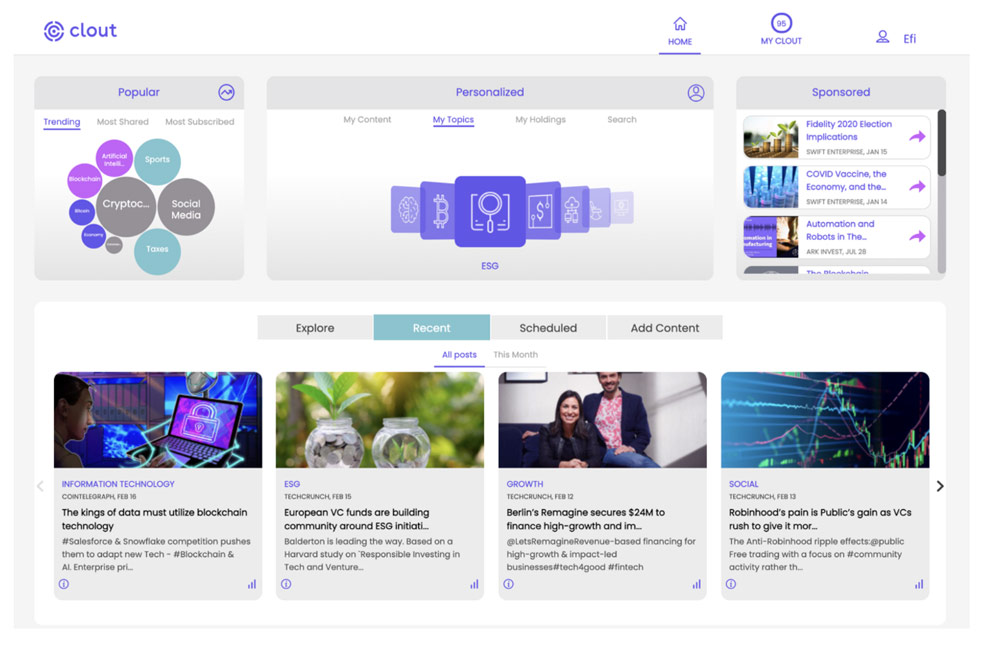 For marketing campaigns and ongoing client engagement, Clout can take away the intimidating tasks of what content, how to find it, how to personalize it, etc. for financial advisors and wealth managers. It even learns from your weekly content scheduling. Its built-in AI also curates additional content for consideration that is relevant based on client investments and past scheduling activities. A 1-click distribution across social media and email is powerful. And as we all love rankings and ratings, it provides detailed analytics of all scheduled activity and a Clout score.
Worth requesting a demo — here.
Disclaimer: Clout is a client and part of the Tifin group.