Figure, the Lending new unicorn powered by Blockchain
Earlier this year the SEC approved a new ETF wrapper and several companies will be able to launch active ETFs or license the wrapper to asset managers.
Undoubtedly, the growth of low cost, indexing, passive ETFs has been supported by digital innovations in wealth management. However, it is the incumbents that own the lion`s share of the low cost, passive ETF market. Similarly, it is predominantly incumbents that will be launching Active Non-Transparent ETFs.
ANTs are actively managed ETFs that offer all the advantages of the ETF wrapper – digital access, intraday liquidity, tax efficiencies, etc. – for actively managed portfolios. The reason that they have been called `Non – Transparent` is that the managers are not disclosing their holdings on a daily basis but on a quarterly basis. The ETF manager will only disclose real-time his-her positions to the Authorized Participant that is the entity who provides the in-kind redemption process.
Eaton Vance has been the only company that already has such an approved wrapper, the NextShares, which is an actively managed open-end fund trading on exchanges without regularly disclosing its holdings.
ETMFs were launched in 2016 but the growth has been negligible.
Eaton Vance Stock NextShares (EVSTC) – $6mill AUM
Eaton Vance TABS 5-to-15 Year Laddered Municipal Bond NextShares (EVLMC) – $7mil AUM
Precidian received approval in Spring 2019, for their own proprietary NonTransparent ETF structure, the `ActiveShares` which can also be licensed.
In a recent approval, Blue Tractor a 5 year old company also received approval to license its proprietary model, Shielded Alpha, to asset managers who are interested to launch NonTransparent ETFs.
The other players are T. Rowe Price, Fidelity Investments, and Natixis through a with the New York Stock Exchange.
Will the new ANTs planned to launch this month (March), come to market in these tough times? Will they eventually help the actively managed space?
Actively managed ETFs
Actively managed ETFs already exist but they are no more than 2% of the entire ETF sector. They have predominantly been focused on fixed income which is an asset class that the portfolio holdings are not easily replicable. Most asset managers have had difficulties beating their benchmarks and at the same time offering low-cost investment vehicles (even in funds) which has resulted in very low interest in equity actively managed ETFs.
As most opportunities in equities have been in smaller caps rather than larger caps and in international markets rather than US domestic markets, actively managed ETFs in larger-cap domestic caps seem challenging.
ANTs that have been approved maybe (just maybe) will establish themselves especially as investment ingredients that financial advisors embrace. The question is whether financial advisors will stomach the opaqueness of these ETFs. I guess they would if the alpha produced is sufficient but that of course, is a chicken and egg problem.
The only example of fully Transparent Actively managed equity ETFs is the family of ETFs launched by ARKInvest, which I have covered from their early days.
The investment thesis of ARKInvest is Innovation. It offers five actively managed thematic ETFs whose holdings are fully transparent (with a small intraday reporting delay). ARKK is the largest ETF with $1.86billion AUM (Total assets under management for all five ETFs are just over $3billion)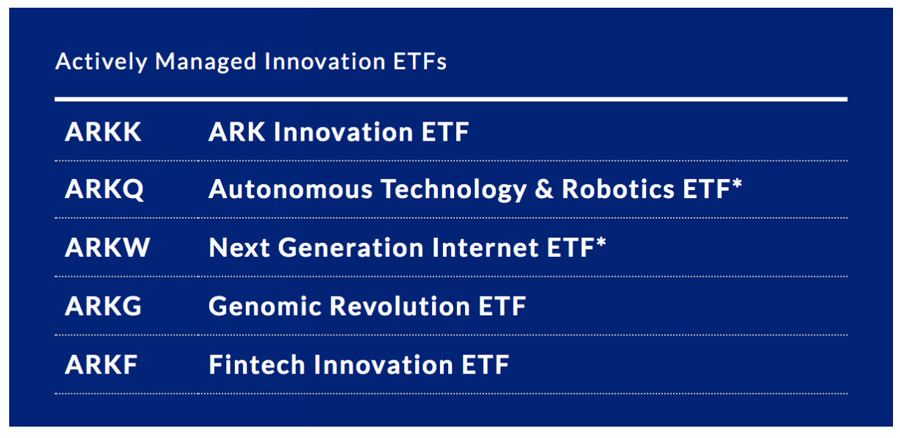 ARK was awarded by Fund Intelligence in 2019, the ETF Suite of the Year. Cathy Wood, the CEO, has also been disruptive in the way research is conducted at ARKInvest. They have developed an Open Research process that allows them to go beyond the traditional financial analysis by including Theme Developers and experts and holding open debates around their investment themes. More here.
Two picks of noteworthy innovations of ARKInvest ETFs.
In the Fall of 2015 ARKW ETF, was the first ETF that invested in Bitcoin through Grayscale's Bitcoin Investment Trust . I personally remember reading Chris Burniske`s (research lead at the time at ARKInvest) ARKInvest research at the time which was shared openly and led to their investment decision. The ARK Web x.0 ETF (ARKW) listed on NYSE Arca invests in innovative internet technologies including cloud computing, big data, digital media, e-commerce, bitcoin and blockchain technologies, and IoT.
Currently, ARKInvest shares openly on its website and on the Github their valuation model of Tesla which is a core holding in three of their five ETFs.