Figure, the Lending new unicorn powered by Blockchain
https://efipylarinou.com/wp-content/uploads/2020/03/Blockchain-figure-ramain-FI.jpg
800
450
Efi Pylarinou
https://secure.gravatar.com/avatar/901f8526e9a0f3445aa4dd5241bd8631?s=96&d=mm&r=g
Figure, the Lending new unicorn powered by Blockchain
Figure is a Blockchain 4 Finance unicorn cofounded by Mike Cagney, the founder and ex-CEO of Sofi, and his wife June Ou (ex- CTO at Sofi).
It is a 2 year old well-funded San Francisco-based startup focused on changing the entire lifecycle of Loans and beyond. From loan origination, to servicing, and securitization. They started servicing the needs of homeowners who have most of their wealth locked in their homes with the so-called HELOCs (Home Equity Line Credit). 
Crunchbase reports an eye-popping total funding amount of $1.2billion. 
This includes a credit facility of $1billion from investment bank Jefferies and WSFS Financial Corporation, the parent of WSFS Bank. This financing facility (May 2019) is custodied and serviced on the in-house Blockchain that Figure Technologies has developed, called Provenance Blockchain.
In the summer of 2019, Figure Technologies launched its $20 million Reg D security token offering, the HASH token, also using the Provenance Blockchain. Figure Technologies is eating its own dogfood.
Figure Technologies presents a huge global opportunity in private markets. They estimate savings (for the market segments) via their Provenance blockchain for non-securitized loans or corporate bonds is in the order of $100 billion ((Provenance benefit figure)). Figure`s revenue estimates for those two categories are $33billion each (Provenance Opportunity figure).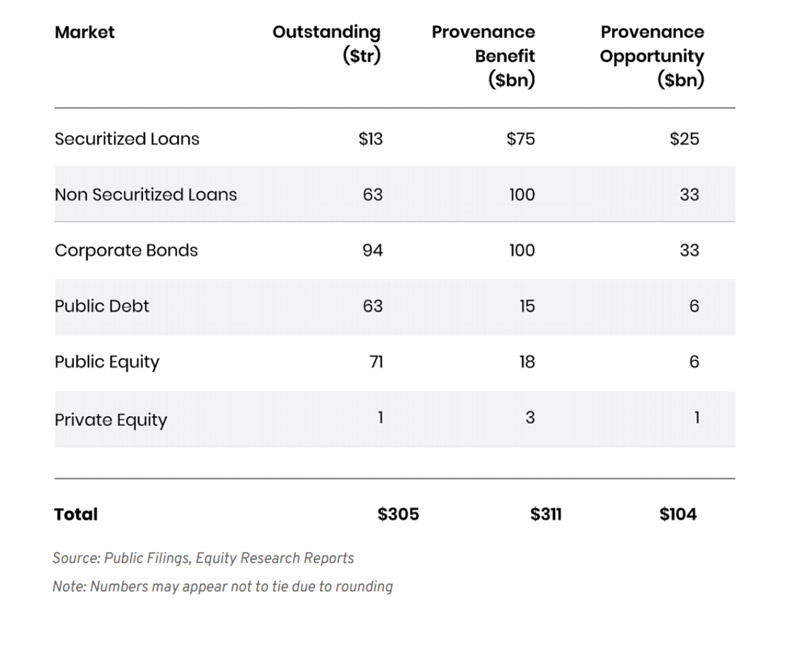 Their in house blockchain is permissioned. The participants are: The members that transact on the Provenance blockchain (which include the HASH token holders), the Node hosts, the administrator, and the omnibus banks that take care of the fiat bridges to the Provenance blockchain.
Their consensus model is from Hyperledger but their will soon be migrating to another more scalable and secure model. More details in the Provenance white paper.
The HASH token is a great example of a hybrid token that would not be possible in the current financial infrastructure. HASH has equity like attributes and voting rights. 
HASH token holders receive directly (digitally) fees from the members that transact on the Provenance blockchain (are you salivating while looking at the Provenance Opportunity figures?). They also vote for the administrator. 
Also HASH has staking functionality for the nodes. Each node has to put up a stake of HASH on which they will earn the return for their services. 
Details regarding the allocations and the economics are found the Provenance white paper.
Figure Technologies is a B2C venture with a flagship product, Figure Home Equity Line. They have already added two new products this year, a student refinancing and a mortgage refinancing product. Sounds like SOFi`s product line? 
US consumers will be getting familiar with Figure`s new mascot "Blockchain," a puppet created for Figure`s video ads aiming at the masses who should consider the benefits of HELOCs on the Blockchain. 
The race is on in the lending space. New disruptors disrupting the grown up lending Fintechs.