Digital deployment in small and medium sized banks remains anemic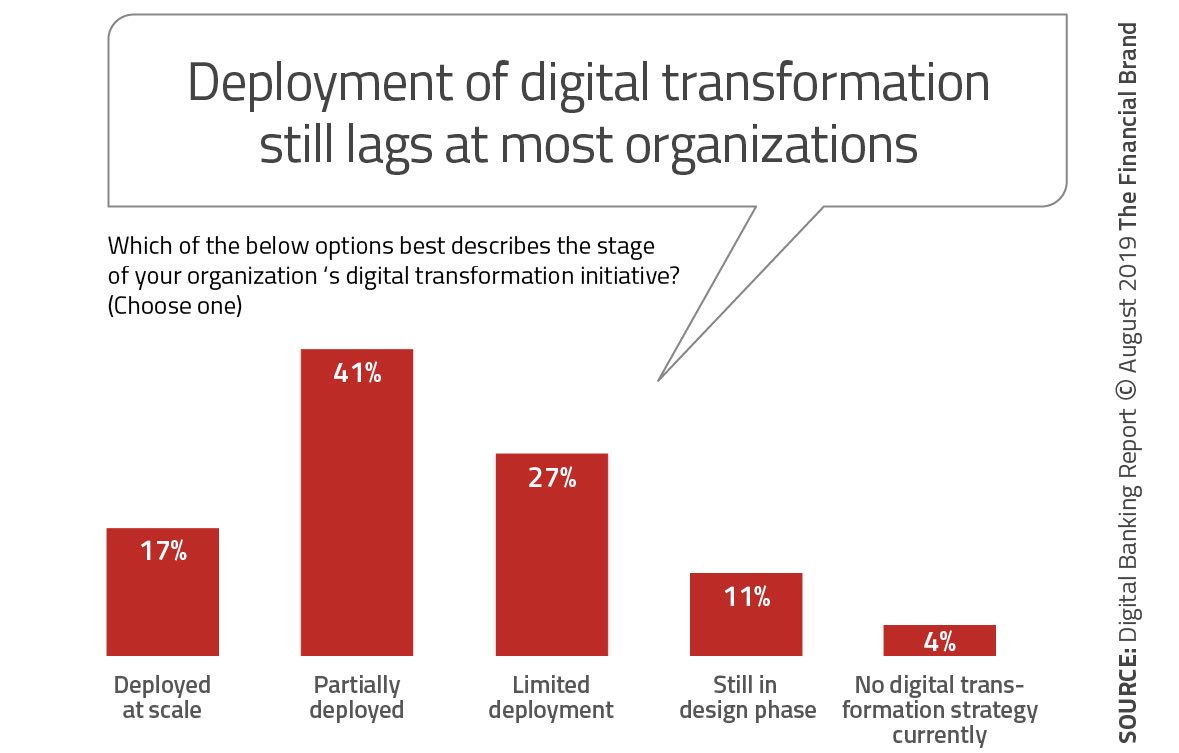 I was even more disappointed with these observations:
More concerning is the reality that most of the high marks for digital sales continue to be garnered by only the largest organizations.
 Larger banks ($150B – $2,500B) not only have a financial and technological advantage, they benefit from a head start in the deployment of all digital account opening capabilities, allowing them to gain a share of mind advantage through media and word of mouth. 
Fintech technology was supposed to democratize banking not only for the end-customer but also for the smaller, less national, less international financial services providers. After all, fintech is by now overweight B2B providers with a rich variety of Saas offerings. As Jessica Ellerm pointed out 'Something'-as-a-service, is the new fintech paradigm.
Despite the plethora of B2B unbundled fintech services out there, anything you can imagine as a service; the mid and smaller size banks remain overall behind. Of course, there is a variety of metrics and KPIs that one can use to measure their digital readiness. From mobile account opening, save and resume functionality, small business account opening, etc.
Digital transformation these days requires internal cultural and technological changes whose impact will be seen 3+yrs down the road. That means that mid to small size incumbents remain at a disadvantage. Their Boards surely won't approve a budget for a transformation plan that may see results in 3 years. Surely,  they don't have internal strategic funding mechanisms like Goldman Sachs has. Goldman's Principal Strategic Investments group has made key investments in Kensho and Tradeweb and helped create Wall Street chat platform Symphony, and much more.
Small and medium sized banks are also exclusively served and in touch with Fintech innovation through their existing financial software providers. They in turn will only sell them innovations that they have integrated in their offerings and keep them hostage to those legacy systems. 
One promising initiative was launched in late 2018 by Fintech Forge. The so called Alloy Labs Alliance, is focused on addressing the innovation needs of smaller banks. They have 12 founding members and 20 additional members. This is a member driven innovation lab for smaller banks. 
Small and medium sized banks remain trapped. Unfortunately, the democratization of financial services, the explosive growth of Fintech Saas offerings, has not reached them. Size matters.
[1] The report includes the Temenos proprietary 'Digital Sales Readiness Matrix'.